Wisdom Teeth Removal
While some people are able to keep their wisdom teeth into adulthood, many people need to have these back molars surgically removed for optimal oral health. If your wisdom teeth aren't growing in correctly, we might recommend wisdom teeth removal. City Dental Chicago has more than 30 years of experience removing wisdom teeth. We're able to make this procedure as smooth and painless as possible. We're skilled and knowledgeable dentists who hold M.S. and D.D.S degrees, and our business is fully licensed and insured for wisdom teeth extraction. Don't suffer through wisdom teeth pain any longer or leave yourself at risk for future problems—call or e-mail City Dental Chicago today to learn more about wisdom teeth surgery!
Is It Necessary to Remove Wisdom Teeth?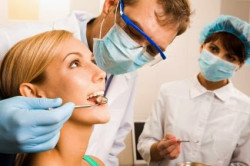 As your trusted dentist, we'll examine your teeth and jaw carefully, using X-rays as well as visual assessments, to determine whether wisdom teeth extraction is the right step. You may need your wisdom teeth removed if you have any of the following symptoms:
Tooth or jaw pain
Gum disease or frequent infections
Tooth decay in molars
Damage to nearby teeth
Teeth being pushed out of alignment
If your mouth doesn't have enough space for your wisdom teeth to grow in, those teeth can become impacted within your jaw. Wisdom teeth that are growing in improperly can also play host to bacteria that cause tooth decay. Even grown-in wisdom teeth can be hard to clean properly, which can lead to cavities and related issues. Thus, in many instances, your good oral health depends upon removing wisdom teeth.
At City Dental Chicago, we put our patients' needs first. Whether you're already living with wisdom teeth pain or an X-ray has indicated that wisdom teeth removal is in your future, we'll explain your options to you and take steps to ease any discomfort you're feeling. Then, we'll schedule a date to have those wisdom teeth removed. Wisdom teeth surgery is usually an outpatient procedure and can be done with general or local anesthetic, depending on the circumstances. Contact us now to get your additional questions about oral surgery answered by our specialists!
City Dental Chicago offers free cost estimates for all of our procedures, including removal of wisdom teeth. We accept most major insurance plans, and we offer financing if your insurance does not cover wisdom teeth extractions. Thanks to our experience, knowledge, and dedication to our patients, we're your best bet for dental services in Chicago. We look forward to meeting all of your dental needs. 
Wisdom Teeth Removal
Wisdom Teeth Surgery
Wisdom Teeth Extraction