Veneers
Have you been feeling self-conscious about your smile? Dental veneers might be the solution you're seeking. Veneers are thin, tooth-colored shells that cover the front of your teeth, improving their appearance. At City Dental Chicago, we offer both resin and porcelain veneers. What's the difference? A porcelain veneer is stain-resistant and mimics your natural teeth, while a resin tooth veneer is thinner, requiring less removal of the existing tooth for installation. When you come to us for teeth veneers, we can discuss the pros and cons and help you select the right material for your needs. Once we've scheduled your appointment, you can look forward to having the smile of your dreams soon! Call today to learn more.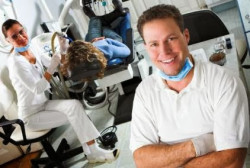 There are a variety of issues that might lead you to want dental veneers. These include:
Discolored teeth
Worn-down teeth
Chipped or broken teeth
Misaligned or uneven teeth
Gaps between teeth
Veneers can brighten your smile. They can also change a tooth's size and shape without as much shaping as a full crown requires. Whether you need a single tooth veneer to cover a damaged or unsightly tooth or you want to improve your entire smile, City Dental Chicago is standing by to meet your needs. We'll give you beautiful and long-lasting teeth veneers that you'll love to show off.
Installing Tooth Veneers Since 1986
City Dental Chicago has been a trusted local dentist's office since 1986, and our staff has more than 30 years of experience. When you come to us seeking porcelain veneers, you can breathe easy knowing that we've helped so many people just like you enjoy a healthier-looking smile. Plus, because we're fully licensed and insured for dental veneer installation and other cosmetic dentistry procedures, you can count on us to have your health, safety, and satisfaction at heart at all times.
How much will tooth veneers cost you? Feel free to ask us before you schedule your appointment. We offer free estimates for all of our cosmetic and dental procedures. If your insurance plan doesn't cover veneers for teeth, we have financing options available. Contact City Dental Chicago now to get more information about the procedure, or whatever dental services you require. We're here to help you!