Teeth Whitening
Over time, your teeth can lose their bright white glow. The culprit: many common foods and beverages. Coffee, tea, wine, soda, and other things you consume can stain your teeth. Smoking and chewing tobacco can also leave your teeth looking less than perfect. Luckily, professional teeth whitening can help you get your smile's shine back. Come to City Dental Chicago for laser teeth whitening. We've been in business since 1986, and in that time, we've gained skill and experience with all sorts of cosmetic dentistry procedures, including teeth whitening treatments. Plus, we're fully licensed and insured and hold M.S. and D.D.S degrees, so you can trust that your teeth are in excellent hands. Call now to learn more about our teeth whitening services!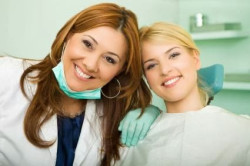 As part of our dentist teeth whitening, we'll go through the following steps:
Examining your teeth, including any crowns or veneers
Cleaning your teeth to prepare them for laser teeth whitening
Applying whitening gel and activating the light to break up stains
Advising you on follow-up care and at-home teeth whitening treatments
At City Dental Chicago, we're pleased to use Philips Zoom whitening products. Zoom is a trusted dental teeth whitening product that promises to get teeth up to eight shades whiter after just one 45-minute session, with minimal side effects. When you come to us to discuss professional teeth whitening, we'll talk about your specific situation and what kind of results you can look forward to. One major benefit of coming to a dentist for teeth whitening, rather than using over-the-counter whiteners, is that we can work with you until you're satisfied with the results.
Walk-In Teeth Whitening Service
We offer walk-in teeth whitening service every Wednesday. If your schedule is hard to predict in advance but you have some free time on a Wednesday during our office hours, we'll be happy to start the dental teeth whitening process right away. We want to be your go-to dentist in Chicagoland, whether you need cosmetic procedures, restorative dentistry, or regular dental cleanings, and walk-in appointments help us better meet your needs.
City Dental Chicago accepts most major insurance plans, and we offer financing for teeth whitening services that are not covered by your insurance. We'll be happy to give you a free estimate for teeth whitening by a dentist in our office. If you can't wait any longer for a whiter, healthier-looking smile, pick up the phone and contact City Dental Chicago today! 
Laser Teeth Whitening
Dentist Teeth Whitening
Professional Teeth Whitening