Invisalign Braces
If your teeth are crooked, wire-and-bracket braces aren't your only option. City Dental Chicago is pleased to offer Invisalign braces, which can straighten your teeth just as effectively without the unwieldy appearance of metal braces. We've been working with invisible braces for years, helping our patients improve their oral health, their bite, and their smile using this reliable method. Want to learn more about Invisalign treatment? Call or e-mail City Dental Chicago today to get answers to your questions, and to get a free estimate for Invisalign clear braces for your teeth!
What Are Invisalign Braces?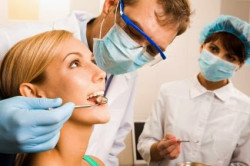 Invisalign is a method designed to shift your teeth using comfortable and virtually invisible plastic aligners. Instead of attaching metal brackets and wires to your teeth, we'll create invisible braces that you wear over your teeth. Every two weeks, you'll change to a new, slightly straighter set of aligners, until your teeth have settled into their new positions.
The benefits of Invisalign treatment include:
Comfort and convenience: You remove your Invisalign retainer while eating, so you can enjoy the foods you want. Invisible braces are also less likely to irritate your cheeks and gums than metal braces.
Ease of cleaning: You can remove your Invisalign clear braces to brush your teeth, so it's easier to get rid of the food residue that causes plaque and tooth decay. 
Improved appearance: Thanks to Invisalign's nearly invisible shape and color, people may not even realize you're wearing braces.
Effective straightening: An Invisalign retainer can treat all sorts of issues, including overbite, underbite, crowding, and spacing.
Whether you need braces for adults or teens, Invisalign is a safe and unobtrusive solution. When you come to City Dental Chicago, you can count on us to put our skill and experience to work to give you results you'll love. We're a licensed and insured Invisalign dentist, in addition to offering other dental health, tooth cleaning, and cosmetic dentristry procedures. Our office opened in 1986, and we've since become one of the most trusted Invisalign dentists in the local area.
City Dental Chicago takes most major insurance plans. If invisible braces aren't covered by your insurance, we can work out a payment plan. You don't have to set aside your dream of healthier, straighter teeth because of the cost any longer. Let our dentists help you straighten your teeth without braces! Call or e-mail us today to discuss the options available to you, and to schedule your appointment with an Invisalign dentist from our office. 
Invisalign Retainer
Invisible Braces
Invisalign Dentist