Emergency Dental Services
Did you wake up with a sore tooth and a swollen mouth? Were you in an accident that broke a tooth or knocked it completely out? Come to City Dental Chicago for your dental emergency and get the fast and knowledgeable help you need. We've been an emergency dentist in Chicago since 1986, and we're standing by to give you the expert services you require. We offer emergency tooth extraction and other procedures to take care of your immediate dental needs. You can trust us to be calm in a crisis, working swiftly and carefully to relieve your pain and resolve the issues you're having. The next time you need emergency dental treatment, pick up the phone and call City Dental Chicago! We're here when you need us.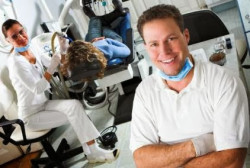 We offer emergency dental procedures for the following issues:
Broken teeth
Teeth that are knocked out
Teeth that are knocked loose or out of place
Abscessed teeth
And more!
We offer emergency tooth extraction and root canal procedures, in the case of infected or abscessed teeth. We can also help save teeth that have been knocked out or loosened. The important thing is to get to our emergency dental clinic as soon as possible. Time is of the essence for all of these problems. You'll have a better chance of avoiding further complications if you seek help right away. City Dental Chicago is available day and night to meet your emergency dental needs.
A Licensed & Insured Emergency Dentist
City Dental Chicago is fully licensed and insured for emergency dental services. Our staff holds M.S. and D.D.S degrees, so you can trust us to handle whatever dental emergency you're facing. We truly care about our patients, and we'll put our knowledge and experience to work to give you the best possible care.
We're pleased to offer free cost estimates, even for emergency dental treatment. That means you don't have to put off calling our office because you're worried about the potential cost. We accept most major insurance, and we have financing available for procedures that aren't covered by insurance. You can stop fretting about the expense and breathe easy knowing you're getting the superior dental care you need.  
Make us your go-to emergency dental clinic in Chicago. Call today to learn more, or to let us know you're coming in for immediate care. Our goal is to help you promptly whether you have a broken front tooth, an abscess, or another painful problem. At City Dental Chicago, we put our patients' safety and comfort first. 
Emergency Dental
Emergency Dentist
Emergency Tooth Extraction