Dental Implants
If you've lost one or more teeth due to periodontal disease, tooth decay, accident, or another cause, you may be a candidate for dental implants. Tooth implants are also a viable alternative for denture-wearers, allowing them to regain a full mouth of permanent teeth. Unlike bridges, which attach to adjacent teeth, a dental implant is placed directly into your jaw. If you're interested in learning more about whether you could benefit from dentist implants, contact City Dental Chicago today. A local implant dentist since 1986, we use the best tools and techniques to ensure that our patients get the lasting results they're seeking. Bring your smile back by contacting our pros!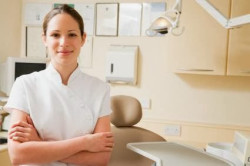 There are many benefits to getting tooth implants instead of dentures or bridges. City Dental Chicago can give you single tooth or full-mouth dental implants that will:
Improve your appearance
Restore comfort
Boost oral health
Last for years, if properly cared for
Whether you need a front-tooth implant to restore your smile after an accident or you're tired of living with the discomfort and inconvenience of removable dentures and want to discuss full-mouth dental implants, City Dental Chicago is here for you. We're fully licensed and insured for all of the procedures we do, including tooth implant services, and we always make quality work our top consideration. We're standing by to use our skill and knowledge to help you improve your appearance and enhance your quality of life.
How long will it take to put in your permanent teeth implants? The time frame varies from patient to patient. In some cases, we're able to offer same-day dental implants. Other cases will require a grafting process, which can take up to two months. When you come to us to discuss a dental implant, we'll take an X-ray to assess your specific needs and circumstances, and we'll talk over your options with you. Regardless of the turnaround time, you can trust City Dental Chicago for a great overall experience.
Free Estimates for Dental Implants
If you've been searching the area for affordable dental implants, it's time to get in touch with City Dental Chicago. We're pleased to provide free cost estimates for all of our services. When it comes time to pay the bill, we take most major insurance plans, and we offer financing if a tooth implant isn't covered by your insurance company. Don't let cost stand in the way of having the brilliant smile you've been dreaming of. Speak with an implant dentist at City Dental Chicago about partial or full dental implants by calling or e-mailing us right away! 
Dental Implant
Implant Dentist
Tooth Implant