Dental Cleaning
Have you been seeking a local dentist in the greater Chicago area? Look no further than City Dental Chicago. We've provided superior dental services to local residents of all ages for more than 30 years. Our dental cleaning services will ensure that your oral health is top notch. We take pride in being a skilled and gentle dentist, able to work with even the most reluctant patients. Whether you simply want to schedule regular dental cleaning or you need cosmetic or restorative procedures, City Dental Chicago will give you excellent results. Call or e-mail us today to schedule your appointment for professional teeth cleaning, or whatever else you need!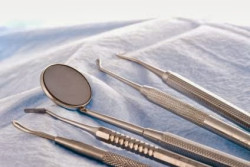 Most dentists recommend dental cleaning at least once or twice a year. If you have problems with your teeth, you may need to come in more often. When you choose City Dental Chicago, your general dentist appointments will include:
Professional tooth cleaning
Fluoride treatment
Examination of teeth and gums for signs of decay or disease
We may also take X-rays to assess your oral health. Then, if you need additional dental services, such as fillings or a root canal, we can book those appointments. As a trusted local dentist, we strive to get to know our patients as individuals. We'll give you dentist services that are effective and personal, helping you get your brightest, straightest, and healthiest smile.
A Licensed & Insured General Dentist
City Dental Chicago is pleased to be fully licensed and insured for your protection and peace of mind. Our dentists hold both M.S. and D.D.S degrees, so you can be sure we're highly trained in our field. If you need a dentist in Chicago, don't just call the first person you find in the phone book. Schedule professional teeth cleaning and more with the specialists you can trust: City Dental Chicago.
For your convenience, we accept most major insurance plans. We also have financing available for dentist services that are not covered by your insurance. As far as appointments, you can schedule your dentist teeth cleaning in advance or just stop by our office when you're free. On Wednesdays, we even offer walk-in whitening sessions. Plus, we provide emergency dental cleanings and other appointments, if you're experiencing tooth or gum pain and can't wait to see a member of our team.
Call City Dental Chicago today to learn more about working with us for dentist cleaning and other services! We care about our patients' health and satisfaction, and we'll give you our best whether you come to us for cleaning and cosmetic procedures or for oral surgery. We'll be happy to give you a free estimate for the procedure you need before you schedule your appointment. 
Dentist Cleaning
Dental Cleaning
Dentist Teeth Cleaning