Cosmetic Dentistry
Have you been dreaming of a whiter, straighter smile? Come to City Dental Chicago for cosmetic dental procedures and get results you'll love. We've been a cosmetic dentist for more than 30 years. Whatever dental services you're seeking, you can expect City Dental Chicago to meet your needs with knowledge, skill, and a commitment to your satisfaction. Make us your local dentist of choice for cosmetic procedures as well as regular cleanings by calling or e-mailing us today!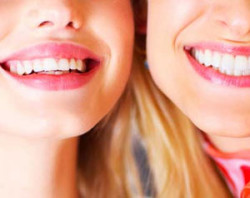 We offer the following cosmetic dental procedures:
Whether you're interested in correcting crooked teeth or getting rid of coffee stains, City Dental Chicago has you covered. In our decades on the job, we've kept up with each and every advance in cosmetic dental work, so you can expect a top-notch outcome. Count on the cosmetic dentists at City Dental Chicago to carry out each procedure safely, paying attention to your oral health at all times.
We're fully licensed and insured for cosmetic dentistry in Chicago and the surrounding area. Our cosmetic dentists hold M.S. and D.D.S degrees, so you can trust that we have all of the training and expertise necessary to meet your needs. You can breathe easy putting your smile and your dental and gum health in our capable hands.
Free Estimates for Cosmetic Dental Work
We offer free estimates for all cosmetic dentistry and other procedures. If you've been holding off on getting veneers or Invisalign braces because you're concerned about the cost, let us give you peace of mind. In addition to offering free estimates, we accept most major insurance plans, and we have financing available for procedures your insurance won't cover. We also offer payment plans for Invisalign braces. We want to be your go-to cosmetic dentist, and that means helping you understand and deal with the expenses involved.
As a trusted local dentist, we can't wait to add you to our list of satisfied patients. When you're seeking a cosmetic dentist in Chicago, turn to the team of specialists with a reputation for doing quality work. Call now to make an appointment, or pick a day for a walk-in visit—we offer walk-in teeth whitenings every Wednesday. We're standing by to take your call!
City Dental Chicago is not able to do wire braces, but we can refer you to a skilled local orthodontist, if needed. 
Cosmetic Dentists
Cosmetic Dentist
Cosmetic Dental Work